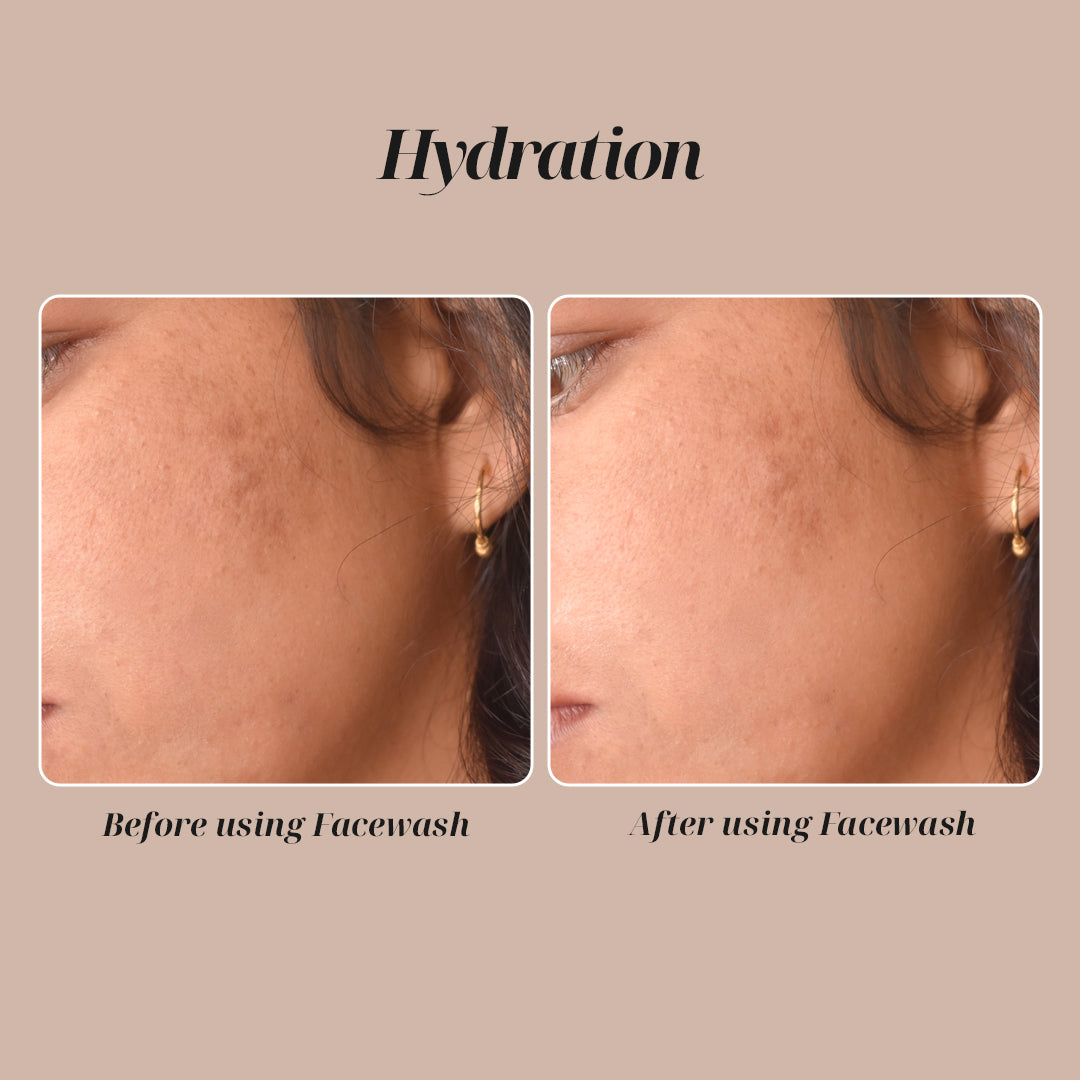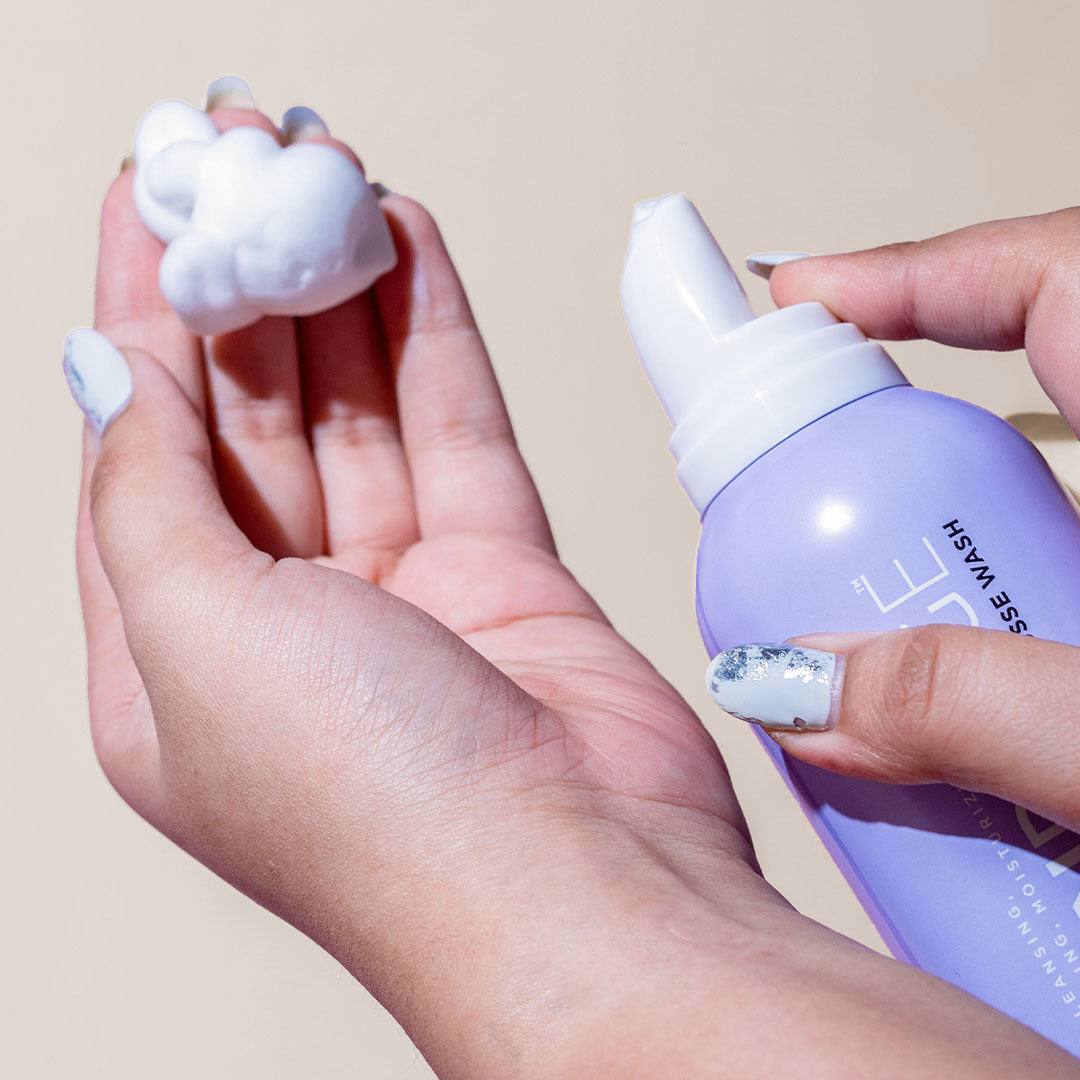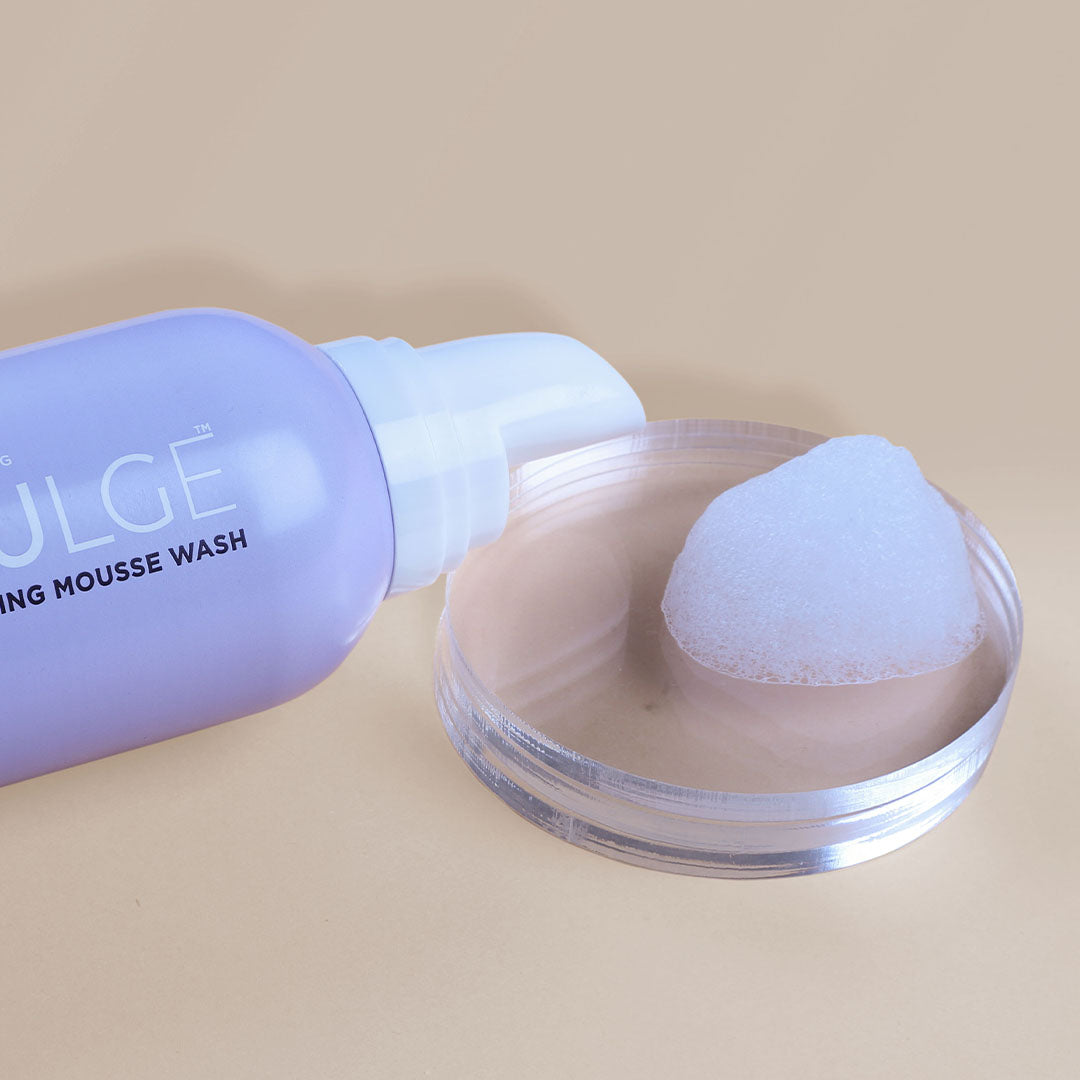 BRIGHTENING & HYDRATING MOUSSE FACE WASH
Colloidal Silver + AHA (Apple Cider) + Vitamin C + Aloe Vera
India's 1st soap- free mousse based face wash with skin healing properties. Enriched with Colloidal Silver that kills acne causing bacteria, heals post sun redness, rashes and after shave cuts. Aquaxyl locks hydration into the skin. Enriched with natural AHA i.e Apple Cider, gently exfoliates the dead skin with each wash (reducing the blackheads and whiteheads in long run) and Witch Hazel shrinks the pores. With Vitamin C to the mix, and you have a balancing hydrating and brightening non-irritant skincare routine that comes with a gentle promise of keeping your skin fresh, clean, and glowing throughout.
Sale price
Rs. 850.00
Regular price
Brighter + Acne-Free + Hydrated + Smooth & Plump + Glowing skin.
29 people are viewing this right now
1. Wet your face with water.
2. Shake the bottle well and invert it, so the nozzle faces the fingertips.
3. Pump out a small amount onto your fingertips and slide it across your face.
4. Massage gently in circular motions for 30-45 seconds.
5. Wash it off with clean water and pat dry.
1. Use it for your AM and PM skincare routine.
2. Use a double cleanse method to thoroughly remove makeup.
hhsja A dark, strong, malty German lager beer that emphasizes the malty-rich and somewhat toasty qualities of continental malts without being sweet in the finish.
History: Originated in the Northern German city of Einbeck, which was a brewing center and popular exporter in the days of the Hanseatic League (14th to 17th century). Recreated in Munich starting in the 17th century. The name "bock" is based on a corruption of the name "Einbeck" in the Bavarian dialect, and was thus only used after the beer came to Munich. "Bock" also means "Ram" in German, and is often used in logos and advertisements.
Deep Hydration
Our new-age ingredient, Aquaxyl meets the ancient wonder-herb, Aloe Vera, which deeply moisturise your skin and boosts hydration.
Anti-ageing
Our marine extracts, seaweed and algae together provide antioxidant benefits and fight and slow down the early signs of ageing.
Deep Pore Cleansing
With apple cider, being a natural AHA, the mousse face wash deeply cleanses your pores by removing dirt, oil and dead skin, all while retaining your skin's natural oils.
Brightening
Packed with Vitamin C, the face wash balances and evens out the complexion and pumps brightness into your skin.
Anti-acne
Colloidal silver in our face wash kills bacteria on your skin, making it acne-free.
"The fragrance of the facewash is very refreshing and it feels very gentle on my skin. I have been using this facewash for over a week now and I have already noticed a significant improvement in the texture of my skin. It has also helped to reduce the appearance of dark spots and blemishes."
"I would highly recommend this facewash to anyone looking for a gentle and effective cleanser that is suitable for sensitive skin. The product is affordable, easy to use and delivers great results. I am definitely going to repurchase this facewash. Thank you Skindulge for such an amazing product!"
"I recently purchased Skindulge.in facewash and I must say I am extremely impressed with the product. This facewash is perfect for my sensitive skin, it gently cleanses my skin without causing any irritation or dryness. I love how it leaves my skin feeling fresh, soft, and hydrated after each use."
"I've been using face wash with colloidal silver for the past few months and it has been a game-changer in my skincare routine. It's gentle yet effective, and I have seen a noticeable difference in my skin's texture and clarity.."
"I've been using face wash for a few weeks now and I'm really impressed with its results. My skin feels softer and looks brighter after using it."
"My skin is brighter and clearer than ever before. It's gentle on my skin, yet effective at removing dirt and oil. I love that it doesn't leave my skin feeling dry or tight after use. "
" I have been using Skindulge's Mousse Facewash for the past two weeks and it has truly transformed my skin! The mousse texture feels incredibly luxurious and gentle on my skin. It creates a rich, creamy lather that deeply cleanses and removes all the impurities, without leaving my skin feeling tight or stripped."
"One of the best things about this product is that it's suitable for all skin types, including sensitive skin like mine. I love the subtle, refreshing fragrance that lingers on my skin after each use. It is not overpowering and feels very pleasant on the senses.Overall, I am really impressed with Skindulge's Mousse Facewash and would highly recommend it to anyone looking for a gentle yet effective cleanser. "
Yes, it is dermatologically approved to be suitable for every skin type, including sensitive skin.
It can last for about 3-4 months for an average user.
Our mousse face wash comes with a pH level of 5.5, which is the reason for glowing and healthy skin. 
All the unique ingredients used to curate this product have been tried and tested by Dermatologists to ensure suitability for every skin type, including extremely sensitive skin.
The face wash removes the makeup without stripping the natural oils. A double cleanse is recommended for a "No trace" makeup face.