A Combo for the Skin-Win!
Brightening and Hydrating Mousse Face Wash + 3 In 1 Skin Hydrator
Cleanse, treat, and hydrate your skin with our nourishing combo of Brightening and Hydrating Mousse Face Wash, and 3-In-1 Hydrator. With the gentle and exfoliating daily mousse-based face wash, experience squeaky clean, clear, and healthier skin. The water-based hydrator works as a toner, serum and a moisturiser at once. This duo is perfect for your daily skincare regimen, reducing the process to just two products, each packed with multiple rare ingredients. This duo will give you a youthful glow by deep cleansing, improving on your skin texture and fading dark spots. 
Regular price
Rs. 2,350.00
Sale price
Rs. 2,350.00
Regular price
26 people are viewing this right now
Sale price
Rs. 850.00
Regular price
1. Wet your face with water.
2. Shake the bottle well and invert it, so the nozzle faces your palm.
3. Pump out a small amount onto your palm and slide it across your face.
4. Massage gently in circular motions for 30 seconds.
5. Wash it off with clean water and pat dry.
6. Then, twist the bottle top of our 3-in-1 Hydrator to release the pump.
6. Pump out a small amount onto your palm and dab it on your face.
7. Use it for your AM routine, followed by sunscreen.
8. Just dab and spread it, do not massage the product.
1. Use the Mousse Face Wash in your AM and PM skincare routine.
2. Use it to cleanse makeup off your face.
3. Use the 3-in-1 Hydrator in your AM routine after cleansing your face and before applying sunscreen.
4. Use it in your PM routine simply after cleansing your face.
5. Use it under your makeup as a primer to keep your makeup lasting longer.
6. Mix a small amount of it with your powder highlighter to get that perfect glow.
hhsja A dark, strong, malty German lager beer that emphasizes the malty-rich and somewhat toasty qualities of continental malts without being sweet in the finish.
History: Originated in the Northern German city of Einbeck, which was a brewing center and popular exporter in the days of the Hanseatic League (14th to 17th century). Recreated in Munich starting in the 17th century. The name "bock" is based on a corruption of the name "Einbeck" in the Bavarian dialect, and was thus only used after the beer came to Munich. "Bock" also means "Ram" in German, and is often used in logos and advertisements.
Deep Pore Cleansing
With apple cider, being a natural AHA, the mousse face wash deeply cleanses your pores by removing dirt, oil and dead skin, all while retaining your skin's natural oils.
Deep Hydration
The new-age ingredient, Aquaxyl meets the ancient wonder herb, Aloe Vera in our mousse face wash, deeply moisturising your skin and boosting hydration. The presence of hyaluronic acid in this hydrator also acts like a power juice for your skin, promoting deep hydration.
Brightening
Packed with Vitamin C, the face wash balances and evens out the complexion and pumps brightness into your skin. The ascorbic and linoleic acid present in our 3-in-1 hydrator also contributes to your skin's brightness while lightening hyperpigmentation and nourishing the skin. 
Anti-acne
Anti-bacterial and Anti-inflammatory: Colloidal silver in our face wash kills bacteria on your skin, making it acne-free. The presence of Lavender and Patchouli oil in the hydrator calms and soothes inflamed and irritated skin.
Fades Dark Spots
Packed with encapsulated niacinamide beads, the hydrator helps fade dark spots and awakens dull and weak skin by promoting protein formation.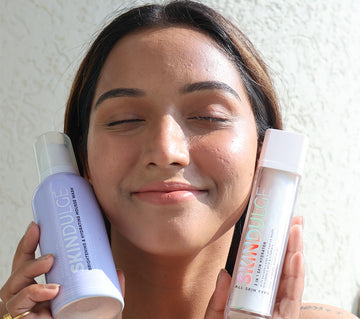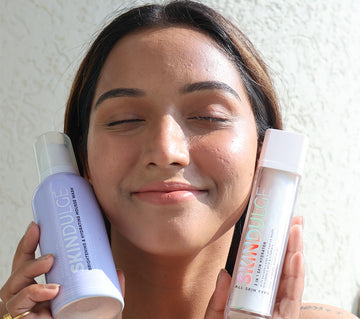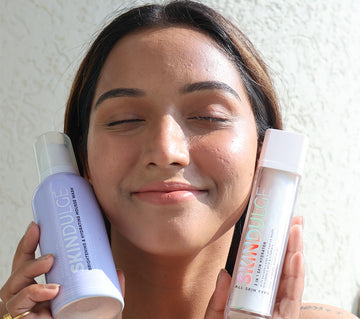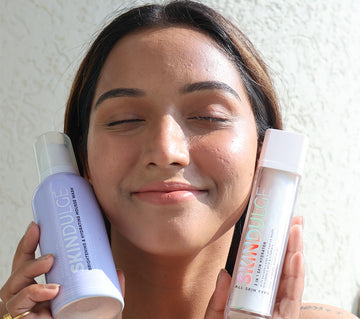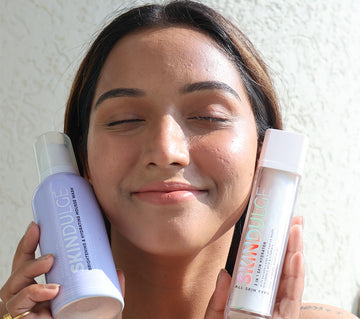 "I highly recommend 3 in 1 Skin hydrator & brightening & hydrating Mousse to anyone looking for a complete skin care solution. My acne reduced without drying my skin and the marks faded.."
"I have rosacea been using both the products for a few weeks now and I am absolutely in love with it! The facewash is gentle yet effective, leaving my skin feeling smooth and hydrated & the hydrator has reduced the redness."
"The 3 in 1 texture is amazing - not too thick or sticky. The face wash texture is really innovative and different. I have used something like this before. My enlarge pores appears smaller. "
"I recently tried Skindulge products and they are amazing! The facewash leaves my skin feeling clean and hydrated, but also smooth and bright. The texture is incredible and the facewash smells great."
Yes, they are dermatologically tested and certified 100% non-irritant. They are suitable for use for all skin types, including extremely sensitive skin.
These products are best stored away in a cool place, away from direct sunlight.
With regular use, the mousse face wash could last approximately 3 months and the 3 in 1 Skin Hydrator could last up to 4-5 months for a single user.
The products are gentle and pH balanced. They are safe to be used by pre-teens and teens, however, we strongly recommended a patch test and application under the guidance of an adult.