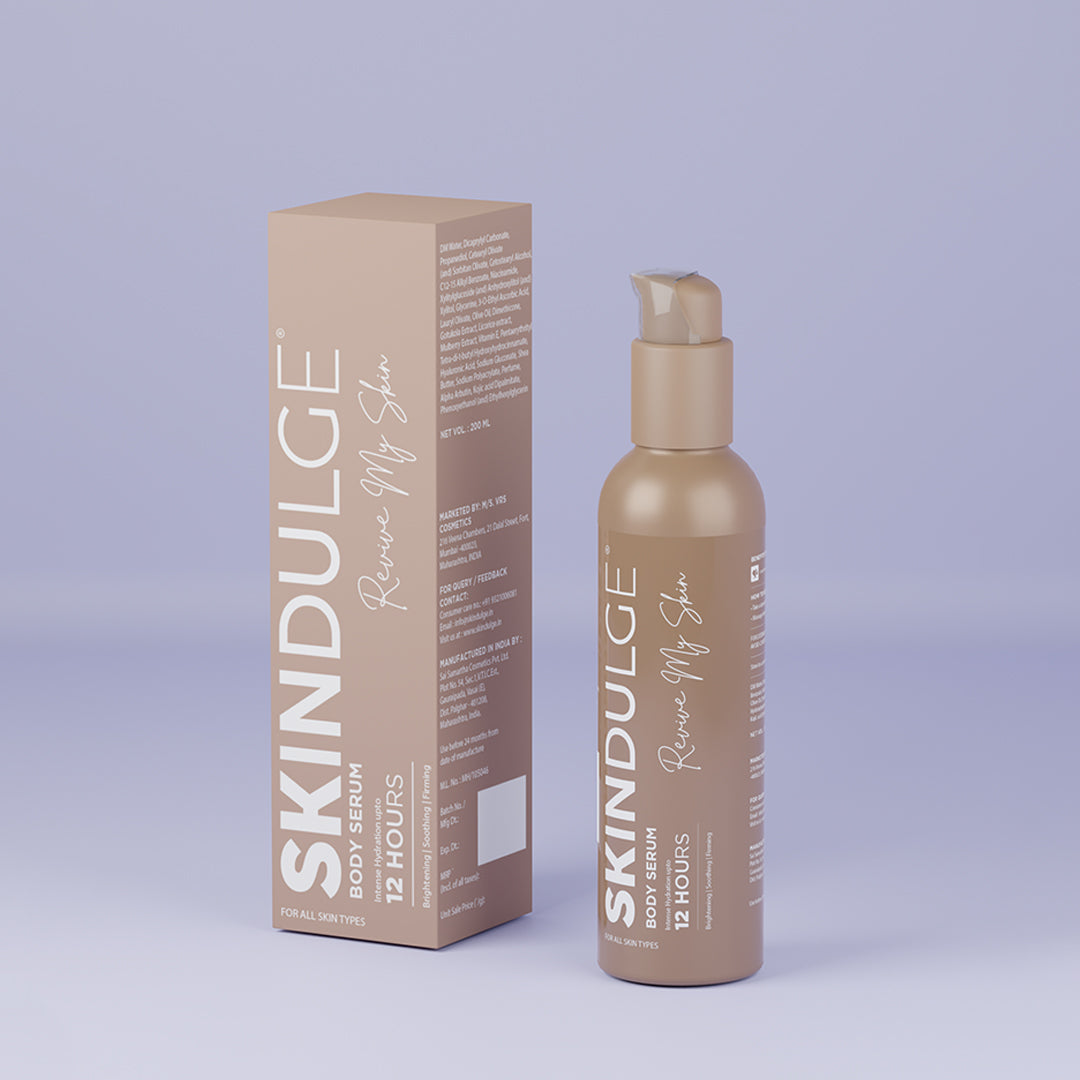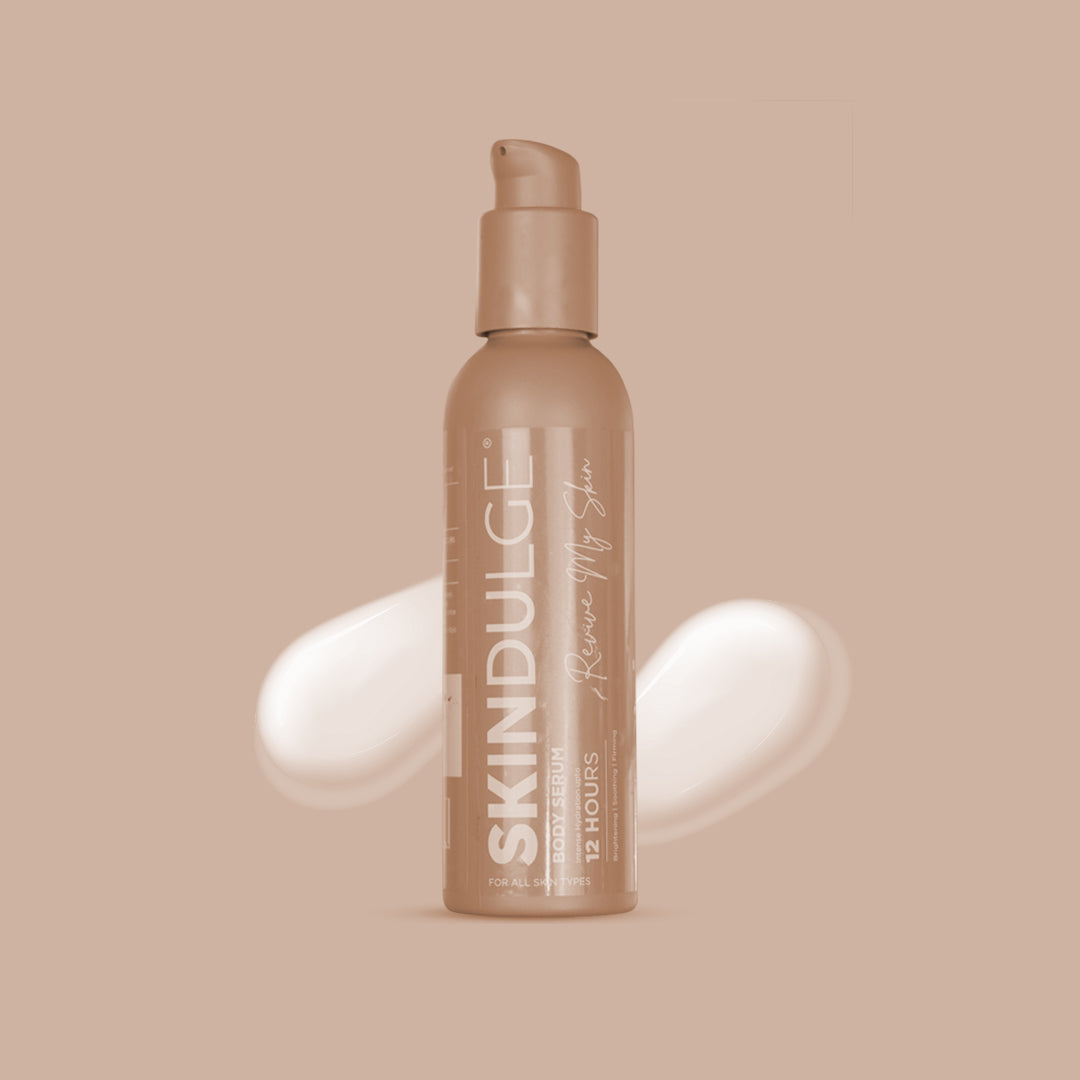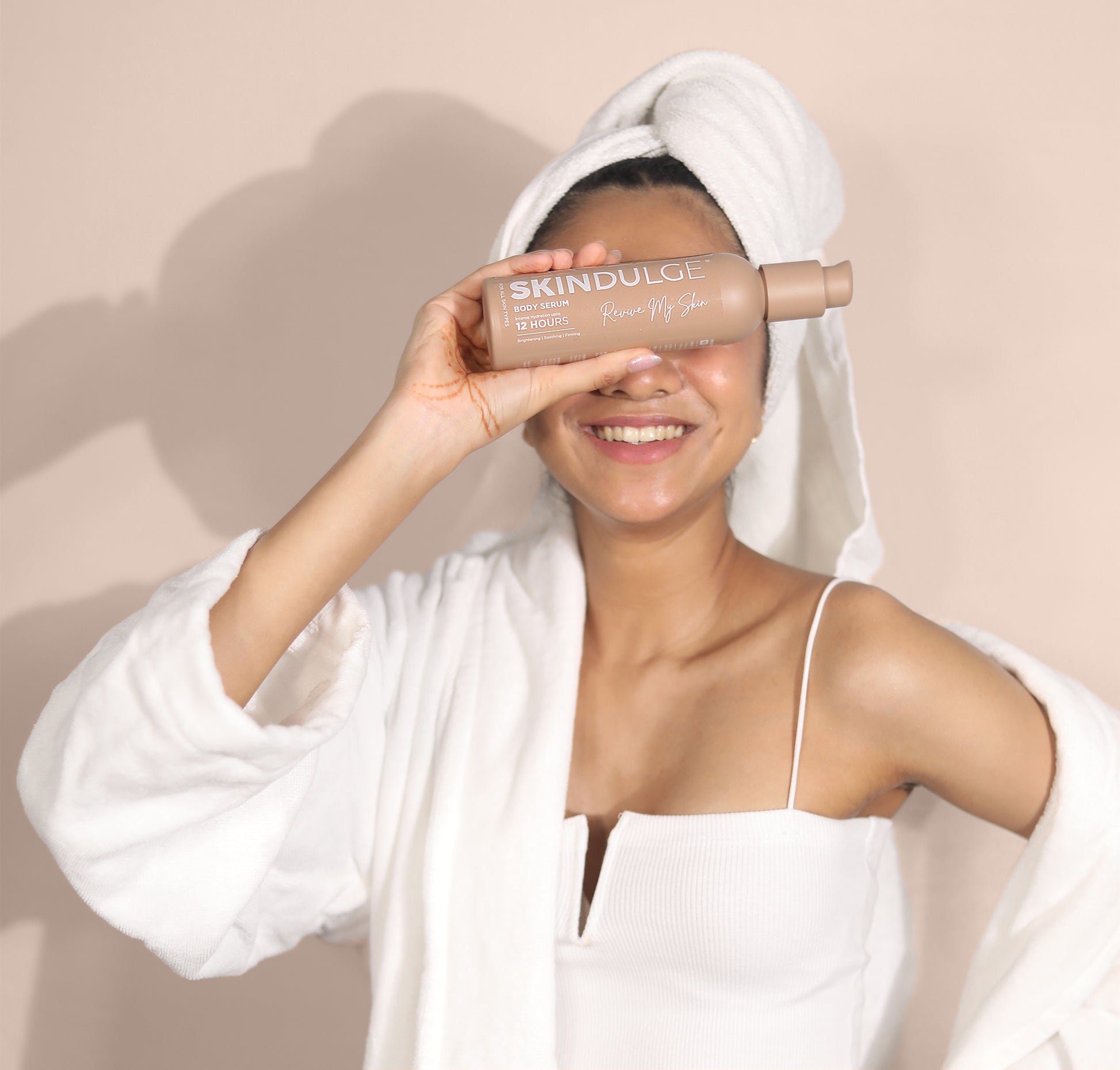 Hyaluronic Acid + Niacinamide + Alpha Arbutin + Gotu Kola + Kojic Acid
Reviving your skin is now just a pump away!!
Revive My Skin is a body serum with an exceptional formulation that surpasses the benefits of a traditional moisturiser, taking your post-shower routine to new heights. Infused with nourishing ingredients like Shea Butter, Hyaluronic Acid, Mulberry Extract, Alpha Arbutin, Kojic Acid, Niacinamide, and Gotu kola extracts, the body serum not only hydrates the skin but provides works to tighten, brighten, and soothe your skin.
Experience the unmatched rejuvenating and pampering effects as it heals Sun Tan and provides essential Post-Sun Care
Sale price
Rs. 675.00
Regular price
Lightweight texture + Quick Absorbing + Hydrating + Fades Sun-Tan+ Fades Body Pigmentation + Anti-Aging + Soothing + Nourishing
23 people are viewing this right now
1. Best used on pat dry skin after bathing.
2. Pour out the desired amount into your palm.
3. Apply onto the skin and massage in a sweeping motion until soaked.

Delivers the best impact when used right after bathing and patting your skin dry.
hhsja A dark, strong, malty German lager beer that emphasizes the malty-rich and somewhat toasty qualities of continental malts without being sweet in the finish.
History: Originated in the Northern German city of Einbeck, which was a brewing center and popular exporter in the days of the Hanseatic League (14th to 17th century). Recreated in Munich starting in the 17th century. The name "bock" is based on a corruption of the name "Einbeck" in the Bavarian dialect, and was thus only used after the beer came to Munich. "Bock" also means "Ram" in German, and is often used in logos and advertisements.
12 hours + Hydration
Shea Butter, Olive Oil, Vitamin E, and Hyaluronic Acid offer intense and non-greasy hydration and nourishment.
Anti- Tan
Licorice Extract, Alpha Arbutin, and Kojic Acid help fade skin pigmentation and sun tan.
Soothing and Calming
Gotu Kola Extract's calms and soothes the skin. It is known to boost the skin's collagen. These properties make it ideal for post-sun protection
Skin Firming
Mulberry Extract's ability to improve uneven skin tone helps reduce signs of premature ageing
I've been using Revive My Skin Body Serum for a month now, and the results are truly amazing! My skin feels rejuvenated and deeply nourished. The serum has a luxurious feel and absorbs quickly, leaving no greasy residue. The blend of natural ingredients has visibly improved the texture and tone of my skin. I can't believe how soft and radiant my skin has become.
Being someone with sensitive skin, I'm always cautious about what I use. This serum, however, has proven to be gentle yet highly effective. It's enriched with goodness that my skin craves. After a few weeks of consistent use, I can see a noticeable reduction in scars and blemishes. The serum's lightweight texture and non-greasy formula make it a joy to apply. For anyone seeking radiant, revitalized skin, this serum is a blessing.
Serum is a perfect addition to my self-care routine. The blend of natural oils and extracts feels like a treat for my skin. While it took a bit of time to see significant changes, the serum has gradually improved the overall elasticity of my skin. I've noticed fewer stretch marks and a smoother appearance. The only reason I'm not giving it 5 stars is because of the price point, but quality-wise, it's definitely top-notch.
The serum's silky texture glides effortlessly onto my skin, providing an immediate burst of hydration. I've struggled with uneven skin tone and dullness, but this serum has worked wonders in restoring my skin's radiance. The blend of natural Indian ingredients resonates with my cultural roots, and I appreciate the commitment to clean beauty.
Yes, it is suitable for every skin type.
All the unique ingredients used to curate this product have been tried and tested by Dermatologists to ensure suitability for every skin type, including extremely sensitive skin.
Yes, the Skindulge Body Serum is a formulation that offers deeper and long-lasting hydration than a moisturiser that also helps rejuvenate the skin.