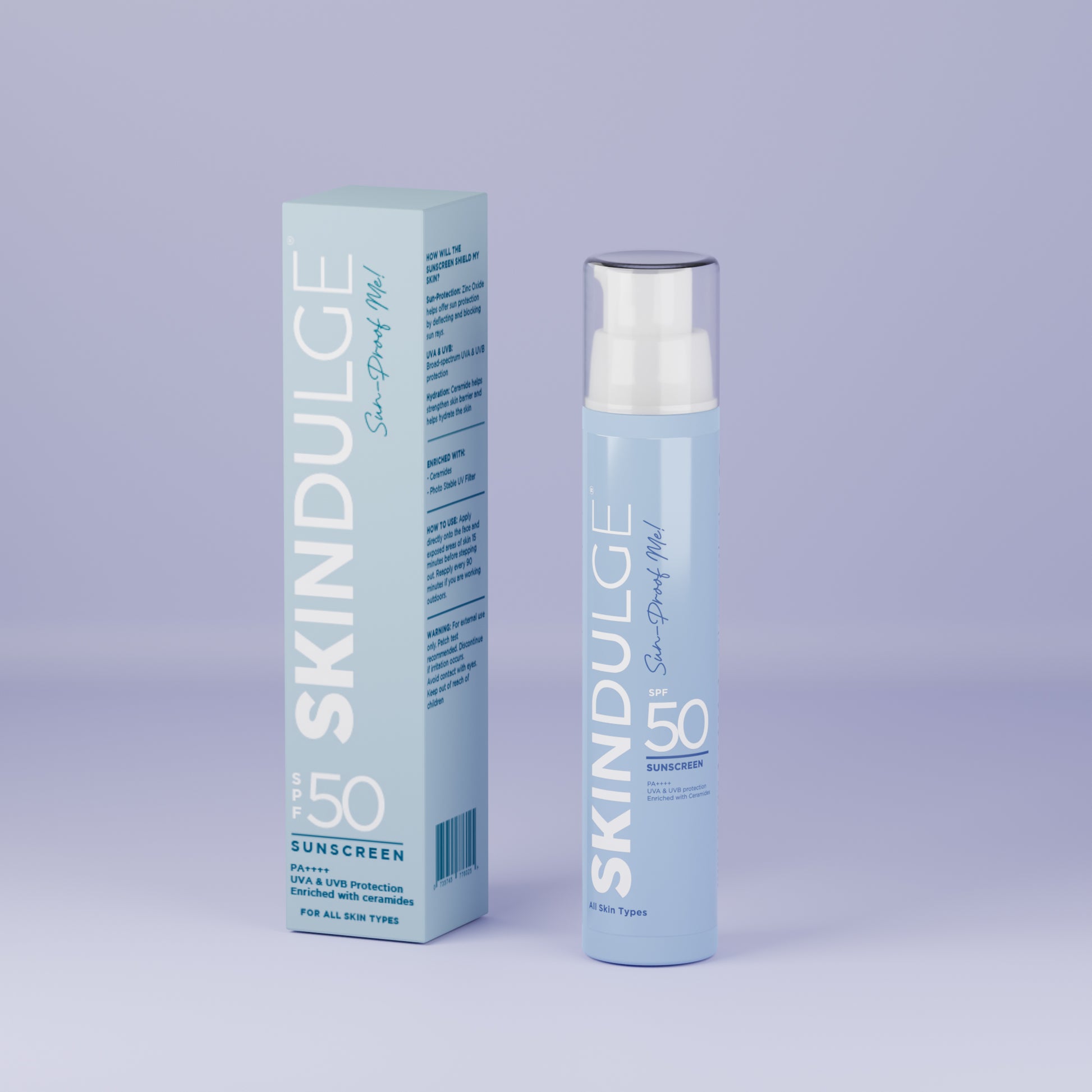 SUN PROOF ME SPF 50, PA++++
Light weight and enriched with Ceramides
Dermatologically Tested + Scientifically Proven +Non-Carcinogenic + UV Rays & Blue Light Protection = 365 days of Sun protection
Finally, Sun-proof-ed !!
Did you know that the blue light emitted from screens and digital devices can have adverse effects on your skin, leading to premature ageing and pigmentation? This  hybrid sunscreen is a powerful blend of physical and mineral filters that promises to not only protect your skin against harmful UV rays & blue light but also do so with a non-greasy texture that absorbs easily into your skin. Say goodbye to worries about carcinogenic ingredients - Sun Proof Me is free from Oxybenzone and Avobenzone, ensuring a non-toxic formula. With its high level of sun protection, you can trust it to shield your skin from the harshest sun rays & blue light emitting from devices. The addition of ceramides strengthens the skin barrier and protects your skin from pollution, promoting a healthier complexion. 
Sale price
Rs. 750.00
Regular price
No white cast + Subtle glow+ Water Resistant +  Matte Finish + Non-Greasy 
27 people are viewing this right now
1. Cleanse: Cleanse with Brightening & Hydrating Mousse Wash
2. Treat: Treat the skin with 3 in 1 Skin Hydrator.
3. Protect: Dispense a sufficient amount of sunscreen, approximately coin-sized.
4. Spread: Apply sunscreen evenly on face, neck, ears and exposed areas.
5. Reapply: For all-day protection, reapply sunscreen every two hours, or more frequently if swimming, sweating, or towel drying.
1. Use it in your AM routine.
2. Reapply every 3-4 hours.
3. Apply pre and post-swimming.

hhsja A dark, strong, malty German lager beer that emphasizes the malty-rich and somewhat toasty qualities of continental malts without being sweet in the finish.
History: Originated in the Northern German city of Einbeck, which was a brewing center and popular exporter in the days of the Hanseatic League (14th to 17th century). Recreated in Munich starting in the 17th century. The name "bock" is based on a corruption of the name "Einbeck" in the Bavarian dialect, and was thus only used after the beer came to Munich. "Bock" also means "Ram" in German, and is often used in logos and advertisements.
*Sun Proof Me is packaged in an airless container, necessitating multiple pump presses for the first use to release air and activate the bottle.
Skin & Health Well-being
Free from harmful ingredients like Aveobenzone and Oxybenzone, this non-carcinogenic formula ensures both skin and health safety, providing effective sun protection without compromising your well-being.
Physical + Mineral sunscreen
Ultra sun protection with advanced formula featuring Unival A, Unival MC, Z-Cote, Zinc Oxide, and Tinsorb B. Reap the benefits of both physical and mineral filters for unparalleled UVA, UVB, and blue light protection.
PA ++++
Stay sun-proof-ed for up to 16 hours (Under limited sun exposure and no water contact) with our PA++++ rated sunscreen, providing exceptional UVA protection of over 95%.
Youthful and pigment-free skin
Shielding your skin from sun damage and harmful UV rays is crucial in preventing premature ageing and minimising the risk of pigmentation and discoloration.
Strengthen & Hydrate
The power of ceramides in Sun-Proof Me is specially formulated to strengthen and hydrate Indian skin to strengthen the skin's barrier. Experience the dual benefits of Ceramides and Stearic Acid that enhances protection and improves hydration for a healthier and more resilient skin.
No White Cast & sheer finish
Be Sun-Proof-ed with no white cast. The formulation leaves your skin with a sheer finish that is non-sticky and greasy, allowing your skin to breathe and feel comfortable all day long.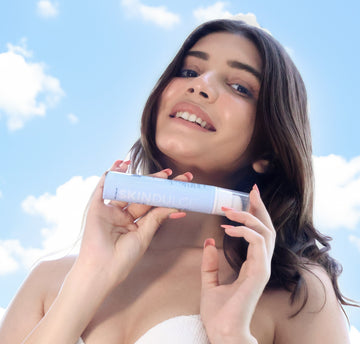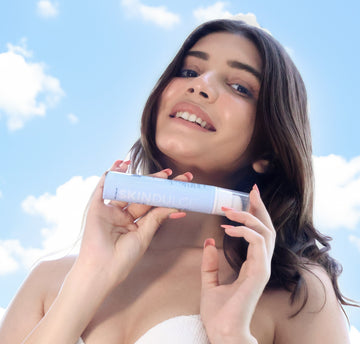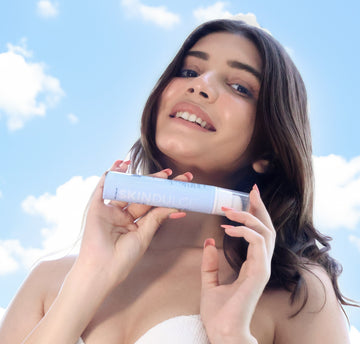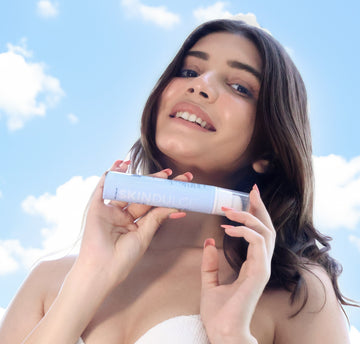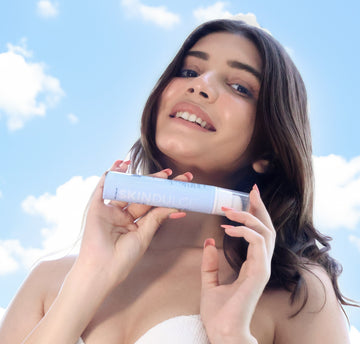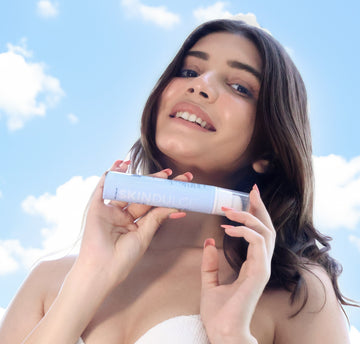 Sun-Proof Me's non-greasy texture is a relief for my sensitive skin. UV and blue light protection, sans harmful ingredients, plus skin-strengthening ceramides - almost perfect! Just wish for a bigger size.
No white cast, no heaviness. A blend of filters, ceramides, and no nasties. My skin feels radiant and safe from sun and screens.
"I am a very outdoorsy person and I spend a lot of time in the sun. I used to get sunburned all the time, but since I started using Sun-Proof Me SPF 50, I have not had a single sunburn. I am so grateful for this sunscreen!"
"I was looking for a natural sunscreen that would not clog my pores. Sun-Proof Me SPF 50 is the perfect solution. It is lightweight and non-comedogenic. I love that it is also fragrance-free."
Yes, it is dermatologically tested to be suitable for every skin type, including sensitive skin.
Our Sun-Proof Me sunscreen comes with a pH level of 5.5, which gives you glowing and healthy skin. 
All the unique ingredients used to curate this product have been tried and tested by Dermatologists to ensure suitability for every skin type, including extremely sensitive skin.
Yes, the sunscreen is water resistant as well as sweatproof.